VandeWater & Associates
Licensed Real Estate Brokerage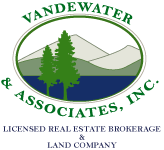 Posted 11/04/2021
TUG HILL WATERFRONT
ATV/SNOWMOBILING PARADISE
7.46 ACRES TOWN OF LEWIS, LEWIS COUNTY, NY
Over 300 feet on "Muscoby" Pond.
New driveway
Over 350 feet on pristine Muscoby Wildlife Pond
Paved road frontage with power and telephone accessible all year
Direct access to main snowmobile and ATV trail system leading to some cozy Restaurants and Pubs
Only $31,900
​
315-348-8884/800-615-2321 www.vandewaterland.com
Click here for details
Financing
VandeWater & Associates offers competitive rates and package options to meet your specific needs because our goal is to make your dream of owning the best quality Adirondack property come true. So when the time comes to handle the financing, there's no need to worry.
We work with several banking institutions that provide land financing at competitive rates. Please call us at (315) 348-8884 for more information on how we can help you find the best financing option for your next Adirondack property.
Top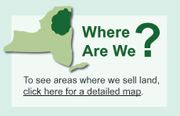 "

VandeWater & Associates,

Thank you so much for selling our property. We came to you with the task of selling our property in the worst market imaginable. When we signed up I was surprised at your professionalism, I was used to dealing with agents that were mostly a promise with no delivery of the level of professionalism you showed. I was equally impressed with how you related to my situation, of having to sell, and my love for the land I've hunted for years. You took the time with me to walk every trail and look over all the camps. Anyway, I thought that I had handed you an impossible task, but you took it on with a handshake and honesty. When you called me less than a week later about showing the property I thought, this has to be a setup. I was quickly made aware of your tenacity as each week that followed you called about other showings. You gave me honest and accurate suggestions of things I should do to better our chances for a sale based on the feedback you got from potential buyers. Then within four months you had several people coming to you with their contractors and such I was blown away. When I thought of selling due to my situation, I said it could never happen in this economy, but here we were talking offers within four months. After working with me, the Seller, and also the buyer I was happy to see the way you made sure everything went smoothly and that my interests were covered. Not only did you sell the land I had hunted for over twenty years and loved so much, you introduced me to the buyer who, like me, loved all things outdoors and invited me to hunt the land he just bought that I used to hunt. Dave, all I can say is I wish everyone I deal with were as upfront and tenacious as you but with honesty and sincerity to boot. All I know is, anyone that I speak to that is looking for land up your way I will tell them to call VandeWater and Associates. Hopefully in the future I'll be able to buy land again and I'll definitely be calling VandeWater.

Thank You So Much, Richard Preti

"

Richard Preti